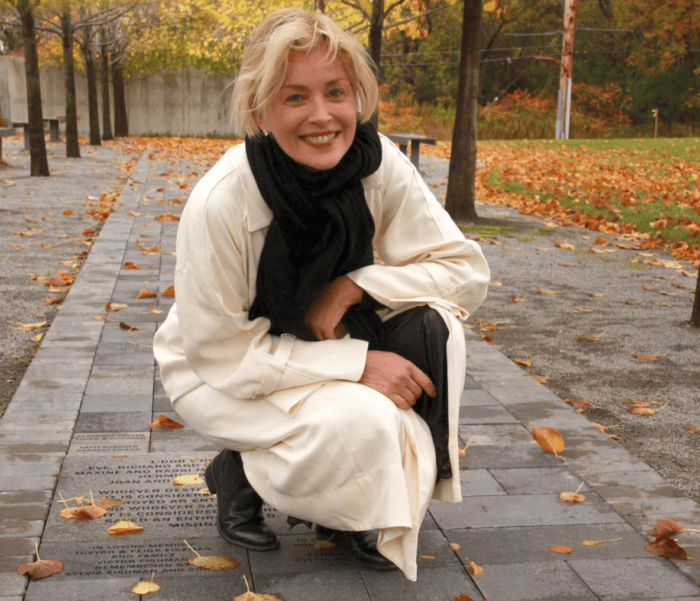 Sharon Stone has been an advocate for healthy skincare and natural beauty and she loves skincare products with nourishing ingredients. In interviews, she often talks about the benefits of using products formulated with botanicals, antioxidants, and plant-based ingredients to promote healthier-looking skin. She has highlighted the significance of choosing gentle, organic, and non-irritating formulas to maintain the skin's natural balance. "I'm a big believer in taking really good care of my skin. I think it's important to use products that are gentle and nourishing." – (Source: Byrdie).
Because of her autoimmune disease, she's been focused on organic, plant-based ingredients and natural techniques in achieving healthier skin. This indicates a preference for skincare products that are less likely to cause irritation or disrupt the skin's barrier function.
She only uses healthy products without any endocrine altering ingredients. "Chemical names in a product doesn't make me feel like it is something I want to use just because it is less expensive. It takes a lot of research to find products with fewer or no chemicals, but they are out there."
As far as products are concerned, she's truly mastered her healthy skincare routine, alternating between the best vitamin C serum and the best retinol – she loves the Plant Mother brand for both types of products.   
The Plant Mother Vitamin C and Retinol have a unique ingredient profile, full of natural antioxidants, vitamins, and essential fatty acids. They're made of fresh, locally grown organic ingredients. You'll never find a toxin or dangerous chemical on their ingredients list. And they combat fine lines and wrinkles without the side effects of synthetic retinol or vitamin c – no redness, peeling, or sun sensitivity, just a healthy nourishment for your skin that boosts your collagen.
If like us you want to get that Stone's healthy glow, shop some of her must-have beauty selects below.
Emphasis on Sun Protection:
Sharon Stone has spoken many times about the importance of sun protection to maintain healthy skin. She has advocated for wearing sunscreen daily, seeking shade, and using protective measures like hats and sunglasses to shield the skin from harmful UV rays.
Biodegradable and reef-safe sunscreens are a must. These sunscreens are designed to break down more easily in the environment, minimizing their impact on water systems. Moreover, they are often made with natural and organic ingredients that are safer for our health.
Customized Skincare Routine:
Stone believes in tailoring skincare routines to individual needs. She has mentioned the importance of understanding one's own skin and adjusting the products and routines accordingly.
Adjusting your skincare routine based on your skin's needs allows you to optimize the results you desire. Whether you aim to improve the appearance of your skin, address specific concerns, or maintain its overall health, understanding your skin helps you choose the right products and techniques that will deliver the desired outcomes.
She also loves the idea of aging gracefully – "This idea that being youthful is the only thing that's beautiful or attractive simply isn't true. I don't want to be an 'ageless beauty,'" Stone told Shape. "I want to be a woman who is the best I can be at my age. Aging is natural and should be celebrated. Beauty is about embracing who you are at every stage of life."
When it comes to fitness, you won't catch her on a treadmill. Sharon Stone prefers alternative workouts like Pilates, circuit training, and even dancing to get her heart pumping and break a sweat. "For me, it's more about real inner beauty and wellness," she said for Prevention Magazine. "It's important to have a philosophy or way of life or faith that keeps you balanced. For me, that has been Buddhism. It's something that brings you back to center, and is really the key to serenity and beauty—an internal sense of form and elegance."
Images: @sharonstone