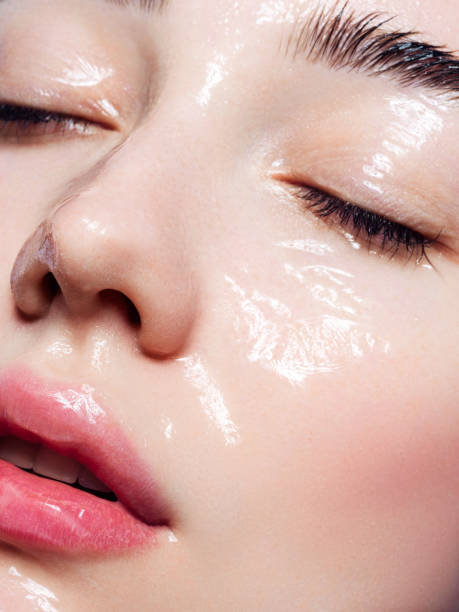 If you've been on social media in the past year, you'll have heard the term "glass skin." It's been popular in Korea for quite a long time but has recently made it over to the West. But what does it mean to have "glass skin"? We'll walk you through:
What is Glass Skin?

How To Achieve Glass Skin?

K-Beauty Secrets For Achieving Glass Skin

Honey Skin vs. Glass Skin

Glass Skin and Acne

Aging and Glass Skin

Glass Skin and Nutrition

Faking Glass Skin with Makeup
The term "glass skin" comes from K-beauty and refers to skin that is smooth, clear, and dewy. The goal is to have skin that looks like it could have been sculpted from glass, and it's not as difficult to achieve as it sounds. The focus is on a poreless texture free from bumps and lumps with a glowy, lit-from-within finish.
How To Achieve Glass look?
Glass skin is above all healthy skin. Each skin is different so each person's path to healthy skin will be different. In general, there are several things to know and adopt in order to keep your skin healthy:
Cleaning and exfoliation: Keeping your skin clean is essential to keeping it healthy, and exfoliation can offer a boost in cell turnover and clear dead skin away. In the evening, add natural, plant-based retinol serum after you cleaned your skin. Vegan retinol will additionally clear up your complexion and give you that glowy look.
Non-toxic skincare: Avoiding products that contain irritating ingredients is a no-brainer. Harsh and toxic chemicals can disrupt your hormones leading into skin purging, breakouts, and more serious health issues.
Proper nutrition: Your food supplies your skin with the nutrients it needs to repair and maintain itself, so proper nutrition is pivotal for healthy skin. Some basic tips are to avoid added sugars (but natural sugars like those founds in fruits are great), avoid saturated fats (but natural fats like those found in cold-water fish and avocados are fantastic), and drink plenty of water!
Skin nutrients: Antioxidants and multivitamins are necessary. Same as your body, your skin needs vitamins, minerals, essential acids, and antioxidants. Plant Mother's

Vitamin C serum

and

retinol serum

are packed with these precious nutrients. They act as "skin food" providing your skin with the necessary nutrients to achieve that inner and outer glow.
Hormonal balance: Hormones, especially estrogen, have a huge impact on the clarity, texture, and consistency of your skin. Breakouts are often caused by hormonal imbalances and it is important to do everything you can to avoid endocrine disruptors. Use organic, non-toxic, and

clean skincare

. 
Preventing sun damage: Wear sunscreen. Always. Every single day. Sunscreen is key in preventing sun damage, early onset signs of aging, and protecting your skin from certain forms of cancer. Don't forget to protect your

decolletage

– this is the most sensitive skin prone to sun spots. Glass skin is easier to achieve if you don't allow your skin to have sun spots, sun burn, or dryness from excessive sun exposure. 
Regular facials: Though pricey, facials like

hydrodermabrasion

help a ton in keeping your skin healthy. What's really good about them is that they clean up your pores and make your complexion looking bright and radiant. Therefore, hydrafacials are a very good treatment to help you achieve glass skin and help you get that flawless look.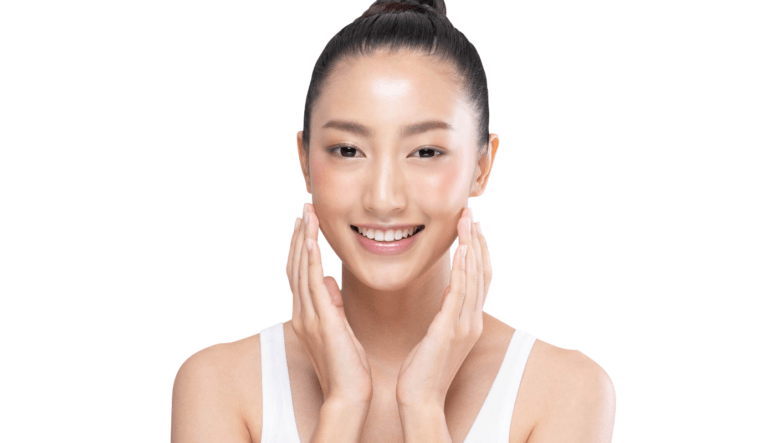 K-Beauty Secrets For Achieving Glass Skin
Koreans are famous for having clear and radiant skin. One of the reasons is the fact they prefer to use natural, non-toxic skincare ingredients. Some of them include "snail slime", bamboo extract, and green tea, among others.
Also, Koreans typically achieve flawless glass skin look with a multi-step skincare routine they almost religiously follow. The best way to get glass skin is, as we explained above, by achieving and maintaining healthy skin. However, there are K-beauty tricks and secrets that can help you get the glossy look without a lengthy (and expensive) multi-step skincare routine.
Use face oil as a base before applying makeup.

Even after absorbing into your skin, face oil will still bring that healthy, radiant glow to your final look. Use face oils with extra nutrients such as vitamin C serum to feed your skin in addition to making it look dewy.

Create an additional glowy base for your makeup.

Mix face oil to your liquid foundation or tinted moisturizer. Doing this will make your foundation even more radiant and glowy.

Use a tinted moisturizer or lightweight liquid foundation instead of stick foundation.

You need to avoid matte finish and makeup without shine and luminosity. Glass skin is a complete opposite from matte look and while both have their charm, you want to avoid anything matte while going for the glass skin finish. Use the best foundation for dry skin to get the dewy look.

Layer in snail mucin (aka snail slime) serum or moisturizer.

It helps heal and moisturize your skin. Additionally, snail mucin boosts collagen production and improved texture of the skin.
Honey Skin vs. Glass Skin
"Honey skin" is a much older Korean term used to describe plump, shiny skin. It differs from glass skin, in that the emphasis is on the lustre of the skin as opposed to the texture. For some, it can look greasy rather than glowy which is partially why glass skin has become more popular in the western world. But honey skin is far more popular in Korea, and some honey skin products contain actual honey.
With its emphasis on smooth skin texture, glass skin may seem impossible to achieve for someone suffering from acne. But the good news is, it's not impossible! Double-cleansing with a gentle cleanser is a great way to make sure your skin is really clean before infusing it with nourishing serums. It may seem counter-intuitive, but it's important to not strip acne-prone skin of too much oil. You can even experiment with a cleansing oil. Doing this can cause the body to over-produce oil as a response, which leads to more breakouts. 
As a general rule, you never want to take more from your skin than you put into it. Follow up your double-cleanse with a nourishing essence and plant-based retinol serum. A bakuchiol serum can help reduce acne and scarring leaving your skin smooth and glowy. Seal all the goodness in with a moisturizer and you're on your way to glass skin!
Using an exfoliating mask once a week is a great way to make sure your skin is processing all the sebum and dirt that passes through it. Exfoliating helps keep your skin smooth and shiny, but it's important not to over-exfoliate as it can cause redness and damage to the skin barrier.
If you want to go the extra mile for glowing skin, try using oil-based Vitamin C  serum on top of your moisturizer. It may not sound like a great idea for someone with oily skin to voluntarily put more oil onto their skin, but Maracuja oil contains an Omega 6 fatty acid that reduces inflammation and actually helps balance the skin's natural oil production in addition to delivering moisture.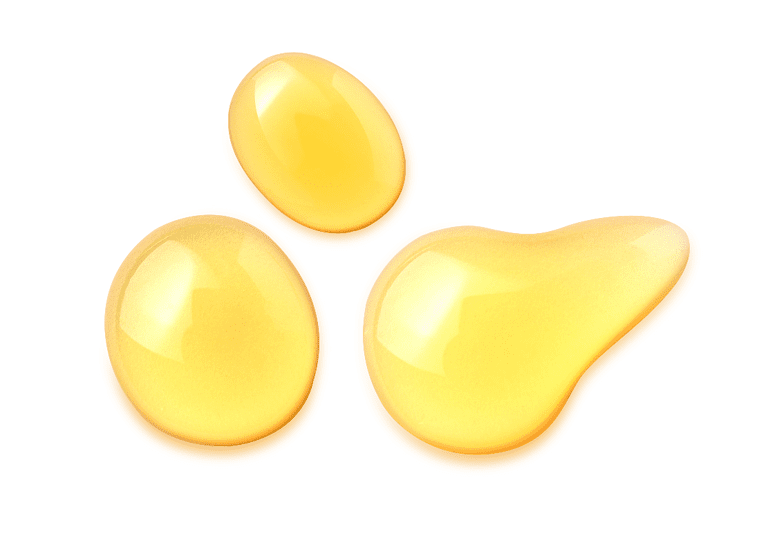 The overlap between glass skincare routines and anti-aging skincare routines is significant. Because both focus on plumping skin and smoothing texture, it's very possible for all skin types to achieve this youthful look. Glass skin is all about hydration, hydration, and hydration! 
Using a gentle cleanser and following it up with a cocktail of hydrating and anti-aging serums is the way to go. Most anti-aging products like prescription-based retinols can cause drying and sun sensitivity, but plant-based Bakuchiol doesn't. It can be used day and night to achieve smooth, firm skin. Lock all the goodness in with a nourishing moisturizer and watch your skin glow!
Nutrition is a rarely considered component of glass skin. Making sure you drink enough water is a given, but the real nutritional trick to glass skin may surprise you: fats. Eating good quality fats like those found in salmon and avocados is essential to maintaining glass skin. Salmon contains omega-3 fatty acids that help regulate and reduce inflammation. It also contains vitamin E which protects the skin from free radical damage. Avocados contain oleic acid which also helps to reduce inflammation.
In addition to getting your fats in, loading up on antioxidant-rich fruits and vegetables can make a huge difference in your skin. Blueberries, pomegranate, sweet cherries, bell peppers, and dark leafy greens like kale and spinach are excellent sources of antioxidants.
Faking Glass look with Makeup
If all else fails, fake it till you make it! Fortunately, it's easy to fake glass skin with makeup. Prep the skin with your favorite moisturizer and give it a few minutes to sink in. Next, apply a pore-filling primer to the parts of your face with the largest pores. For most people, that's the nose and chin. This will help give you that signature glass skin smoothness. If you're in the mood for experimenting, try to combine glass skin with these bold Christmas makeup looks. 
Take a pump of your favorite light-coverage foundation or tinted moisturizer and mix in a couple of drops of liquid highlighter. This will help give you that all-over glow iconic to glass skin. Using your finger, dot your foundation under your eyes, on your cheekbones, on either side of your nostrils, onto your chin, and in the center of your forehead. Next, take either a damp sponge or a foundation brush and gently pat the product into your skin using circular motions. Once this layer is all blended, feel free to add a bit more of your foundation/highlighter mixture with a good CC cream to any areas of the skin in need of more coverage. Voila! Glass skin the easy way!
This content is for informational and educational purposes only. It is not intended to provide medical advice or to take the place of such advice or treatment from a personal physician. All readers of this content are advised to consult their doctors or qualified health professionals regarding specific health questions. The publisher of this content does not take responsibility for possible health consequences of any person or persons reading or following the information in this educational content. 
All viewers of this content, especially those taking prescription or over-the-counter medications, should consult their physicians before beginning any nutrition, supplement, skincare product, or lifestyle program.