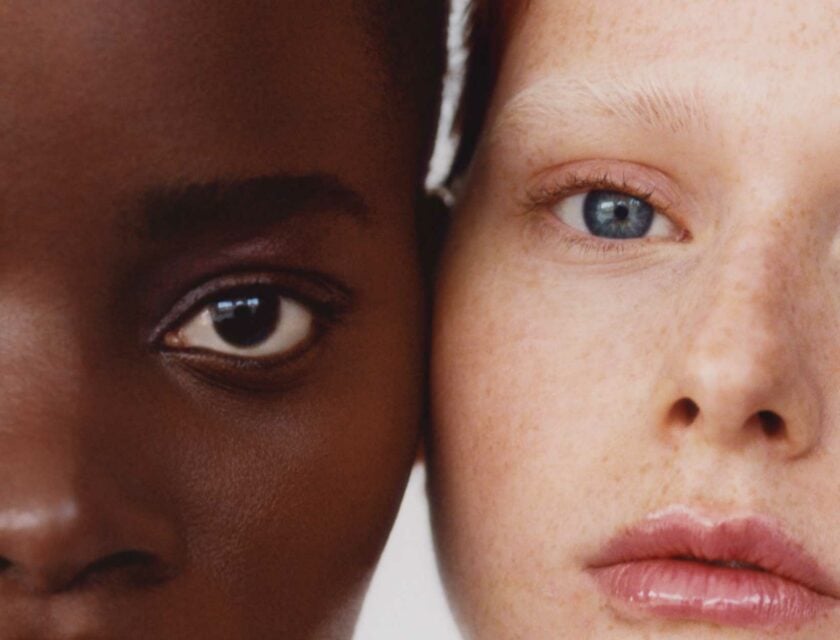 Niacinamide and Vitamin C recently became very popular ingredients in the beauty community, quickly making their way into everyone's skin care routines. The two ingredients have been praised for clearing the skin, evening skin's texture, and reducing wrinkles.
There are so many niacinamide and vitamin c products available, making it hard to know which is the best to use. So, in this article, we will be going into detail about how you can use these ingredients without irritation, and the positive long-term results you can expect to see.  
What Is Niacinamide?
What is Vitamin C?
Which Type of Niacinamide and Vitamin C Product Is Best?
Benefits of Using Niacinamide
Benefits of Using Vitamin C
Can You Mix Niacinamide and Vitamin C?
How To Apply These Ingredients
What if I have Sensitive Skin?
Niacinamide aka Vitamin B3 is relatively newly discovered ingredient in skincare. This Vitamin has been known and used orally as part of the B-complex for centuries. When taken orally, Vitamin B helps by providing your body with energy and is often prescribed to people with weak immune system. It also helps make your skin healthy due to its anti-oxidant effects.  
Niacinamide in skincare provides similar benefits as Vitamin C – skin brightening and rejuvenating. It can also soothe irritated skin and reduce redness and irritation. 
Most niacinamide serums and creams are mede of synthetic ingredients. These products should contain no more than 1-2% of niacinamide, because higher percentages can cause redness, irritation, and even dermatitis.
As with most skincare ingredients, it's good to look for a plant-based niacinamide alternative. Some of the plants with a high percentage of natural niacinamide include: maracuja, sweet acacia, ginkgo biloba, fewerfew, among many others. If possible, always opt for 100% plant-based, organic formula to give your skin all the healthy ingredients it needs without chemicals and synthetics. 
Plant Mother's Vitamin C serum is made with all-natural, plant-based niacin from Maracuja oil. Maracuja is a very good source of vitamins of the B complex, especially, niacin, plant-based B3 vitamin. Plant Mother uses the most active form of Maracuja in its Vitamin C serum.
Vitamin C is a powerful antioxidant. There are two types of Vitamin C products – synthetic and natural, plant-based Vitamin C. They are very different though. 
Synthetic Vitamin C is water-soluble and unstable, difficult to keep potent. Therefore, water-based formulas use high doses of synthetic chemicals. In addition, they add heavy preservatives to prevent bacteria from growing. For that reason, synthetic, water-based Vitamin C is notoriously hard to deliver and has a problematic stability. Exposures to air, heat, or light can slowly degrade it. Therefore, the Vitamin C products with water as their main ingredient typically lack nutrients.
Additionally, synthetic Vitamin C (similar to synthetic niacinamide) can cause irritation to people with sensitive skin. This could result in dryness, redness, or stinging. However, finding a good Vitamin C face cream is not easy. Same goes for niacinamide. That's why it's best to get them both combined in one product such as Plant Mother's Vitamin C serum.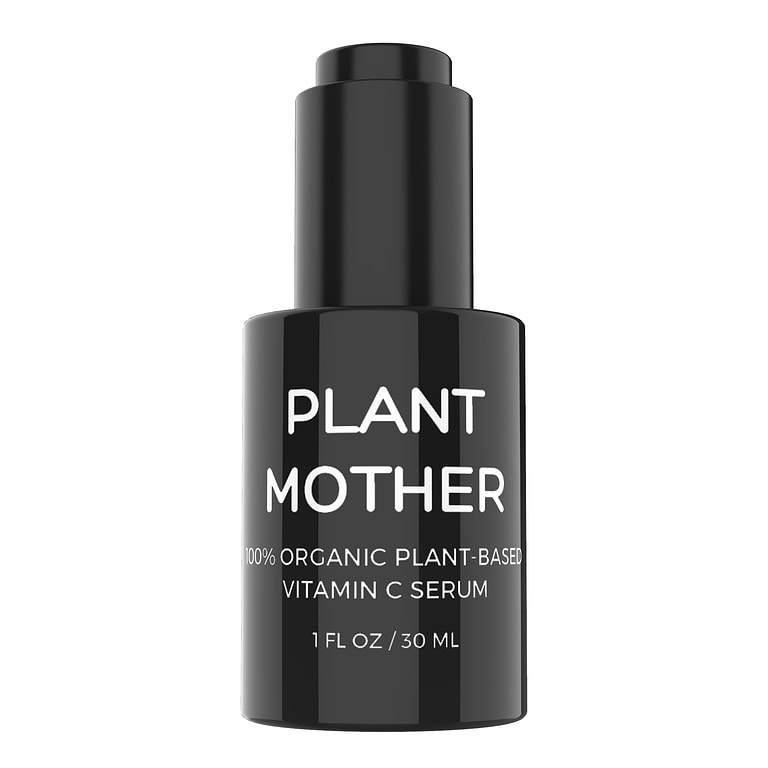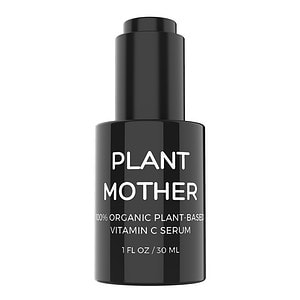 Which Type of NIACINAMIDE AND VITAMIN C Product Is Best?
After the famed success of the two ingredients, many skincare brands have released products containing niacinamide and vitamin c. There are countless moisturizers, eye creams, serums, and essences, so which should you go for? It's best to get them both combined in one product such as Plant Mother's Vitamin C serum.
As we mentioned before, you should always choose non-toxic, natural niacinamide and vitamin C vs synthetic. Also avoid products that have water listed as their main ingredient. Those typically lack nutrients and are full of chemicals and preservatives. Instead, opt for all-natural Vitamin C serum with plant-based niacinamide. This type of product will provide all the nutrients, antioxidants, and vitamins your skin needs to be healthy and radiant.
Unlike synthetic Vitamin C serums that are filled with 80-95% water and chemicals, Plant Mother uses 100% waterless Vitamin C formulation, packed with over 200 botanical nutrients and anti-oxidants. This serum is based on the natural Vitamin C from Kakadu Plum – containing over 55 times more natural Vitamin C than in oranges. It is combined with natural niacinamide, Vitamin A, E, carotenoids, and omegas. This serum is famous for being nutritious and nourishing, a real food for your skin.
Finally, when choosing niacinamide and vitamin C, make sure the product doesn't make your skin to purge or get red and irritated. Plant Mother's Vitamin C serum with niacinamide is made for even the most sensitive skin. It is safe and won't cause any skin irritation. Many women use it during pregnancy and breastfeeding (of course always consult your doctor first) because it is made without any chemicals and toxins.
Benefits of Using Niacinamide
Niacinamide is a form of vitamin B3, and it is an impressive topical treatment for the skin. It has several benefits:
Helps with moisturization and skin brightening
Reduces the appearance of pores
Treats hyperpigmentation and scarring
Reduces wrinkles and improves skin's elasticity
Benefits of Using Vitamin C
Vitamin C is a powerful natural antioxidant that provides the following benefits:
Protects the skin against environmental pollution
Brightens skin tone and helps fade scars and dark spots
Assists with collagen production – this makes skin appear younger
Treats UV damage caused by the sun
While it's usually clear if a skin product contains Vitamin C, the ingredient also goes by other names which you can look out for:
L-ascorbic acid – this is the purest chemical form of Vitamin C on the market. Note that people with sensitive skin can react to using the synthetic Vitamin C. It can cause dryness, redness, and stinging.
Tetrahexyldecyl Ascorbate & Ascorbyl Palmitate – both are gentler versions of a synthetic Vitamin C.
Natural, plant-based Vitamin C should come from the following botanicals: Kakadu Plum, Prickly Pear, Maracuja, Cloudberries, and Hibiscus, among others.
Can You Combine Niacinamide and Vitamin C?
Yes, you can either mix them together or use them separately. Research shows that it is beneficial to use both in your skincare routine. Since both niacinamide and vitamin c have similar effects on the skin, so the two can work together to renew and repair your skin. If combined, you can use them in layers. It doesn't matter which ingredient comes first. 
As we said before, the best thing is to use a natural serum that contains both niacinamide and vitamin C in an organic, vegan formula. Avoid synthetic products because they often contain toxins and dangerous endocrine disruptors.
What's more important when combining these ingredients is the form of niacinamide and vitamin c products you use. Serums are better than creams because they're typically packed with nutrients. They should always come as a first step after cleaning your skin. This is because serums contain the highest amount of nutrients so your skin needs to soak them in directly. Other textures, such as creams and moisturizers, come after the serum.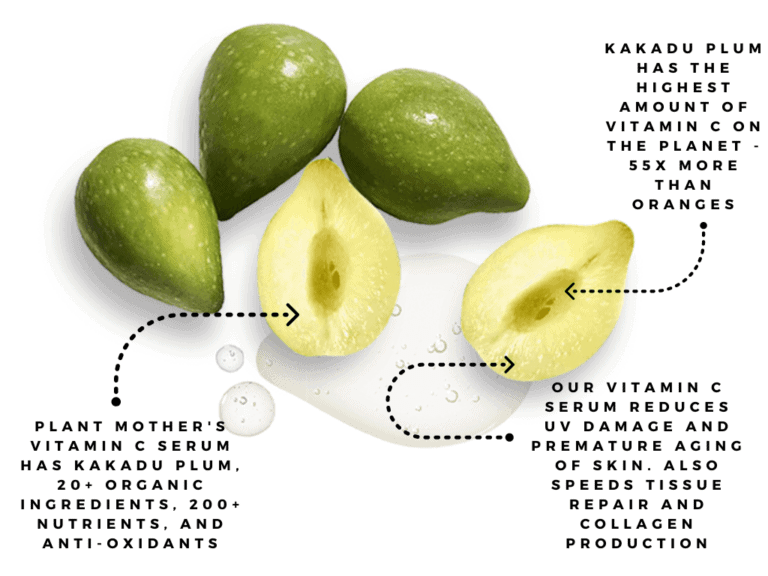 How To Apply these Ingredients
Serums should be applied after using a gentle cleanser and before a moisturizer. The order in which you apply products has a significant impact on their effectiveness, so it's important to use them in the right order.
If you wish to use a niacinamide product and a vitamin c serum separately, you can first apply the niacinamide and give it a minute to sink in, then apply the vitamin c serum. This is so that the niacinamide can be absorbed into the pores, while vitamin c provides a protective layer over it. Even better, use one product that contains both ingredients in one.
Since niacinamide is relatively new ingredient, make sure you also know how to combine it with other ingredients besides vitamin C. We recommend you check this article on niacinamide and retinol. 
What if I have Sensitive Skin?
Whatever your skin type, you should not use niacinamide or Vitamin C in your routine until you have first done patch tests on your skin. If you do not react to the patch test, you can safely proceed.
If you have sensitive skin, you should proceed with caution when layering vitamin c and niacinamide. The best thing is to choose plant-based Vitamin C Serum with Niacinamide. Not only are these natural ingredients healthier and more nutritious, they also are perfect for sensitive skin because they don't cause any irritation.
If you opt for synthetic products, you should try using the ingredients separately, for example, start applying niacinamide (no more than 2%) and after a few weeks of use, you can try adding Vitamin C into your routine.
If your skin becomes irritated by layering the two treatments, try applying one in the morning and one in the evening. You could also try using niacinamide one day, then Vitamin C the next, and so on.
Niacinamide and Vitamin C: Final Thoughts
In conclusion, you can incorporate both niacinamide and vitamin c into your skincare routine and expect the following:
Younger, brighter skin
Reduced signs of aging
Less hyperpigmentation and dryness
By carefully using the two ingredients in the way we've explained, you can experience the famous rejuvenating effects for yourself!
This content is for informational and educational purposes only. It is not intended to provide medical advice or to take the place of such advice or treatment from a personal physician. All readers of this content are advised to consult their doctors or qualified health professionals regarding specific health questions. The publisher of this content does not take responsibility for possible health consequences of any person or persons reading or following the information in this educational content. All viewers of this content, especially those taking prescription or over-the-counter medications, should consult their physicians before beginning any nutrition, supplement, skincare product, or lifestyle program.