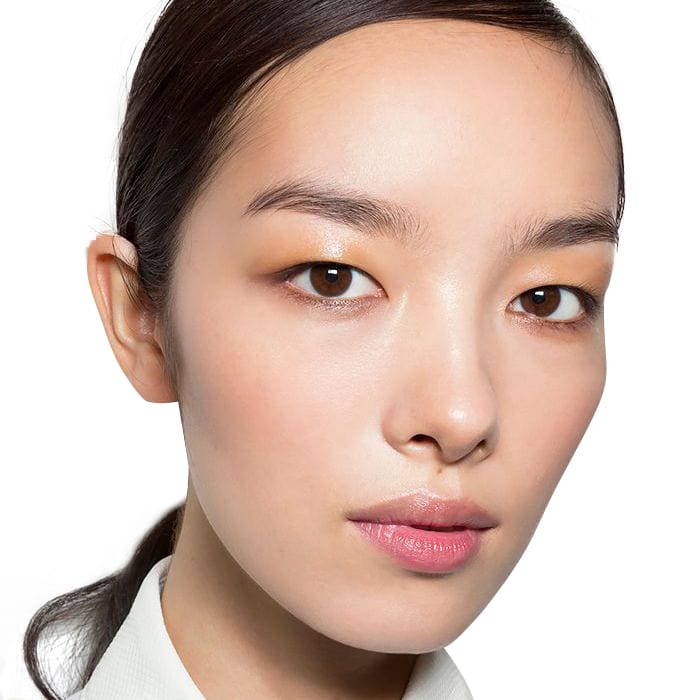 Whether you call it natural makeup, nude makeup, or no-makeup makeup, the look of glass skin, pinched cheeks, and clean lashes is timeless. Nude makeup is perfect for a day of errands and can be elevated with a bold lip for a night out. There's nothing more beautiful than looking like you!
But nude makeup can be deceptively tricky to perfect. Sometimes you can end up looking too done, other times not done enough. In this article, we'll walk you through the dos and don'ts of nude makeup as well as some of our favourite tips and tricks! You'll learn:
Prepping the Skin to Glow from Within

The Best Complexion Products for Nude Makeup Looks

Recommended Cheek Products for Nude Makeup Looks

The Best Products for Natural-Looking Lashes and Brows

How To Achieve A Nude Lip Look

The Importance of Ingredients

Tips and Tricks for a Natural Nude Makeup Look
Prepping the Skin to Glow from Within
Skin prep is more crucial for a nude makeup look than any other. Because your skin is the focal point of your look, it's important to pamper it like the star of the show. Pairing a glowy serum with an SPF under your foundation or tinted moisturizer can give you that glass skin effect while protecting your skin from the sun. A vitamin C serum like Plant Mother's can give you an instant glow while brightening your skin over time.
We advise using sunscreen every day to keep your skin protected, but it's especially important to follow an application of vitamin C with sunscreen as vitamin C can increase sun sensitivity in the skin.
If your skin is excessively oily, use a lightweight pore-filling primer as your base to help smooth pores and keep your skin from getting greasy.
The Best Complexion Products for Nude Makeup Looks
DO: Use a tinted moisturizer or sheer color corrector all over the face to even out the skin tone if needed. Also use your lightweight foundation as a spot concealer in places where you need added coverage or brightness. The lighter you keep your coverage, the more natural your makeup will look!
DON'T: Use a heavy or medium foundation all over the face. This is more likely to appear makeup-y and will wear off unevenly throughout the day leaving you with a patchy complexion. Additionally, it will take the variation and dimension out of your skin. We want dimension in nude makeup looks!
DO: Match your tinted moisturizer and foundation to your face. It's important that the product you put on your face blends seamlessly into your skin to create a natural look.
DON'T: Match your tinted moisturizer and foundation to the back of your hand or chest. The backs of our hands are significantly darker than our faces as they get more sun. So a foundation that matches the back of your hand will be much too dark to look natural on the face. The same principle applies to the chest. If your chest is significantly darker than your face, match your foundation to your face and then use a bronzer on the high points of your face.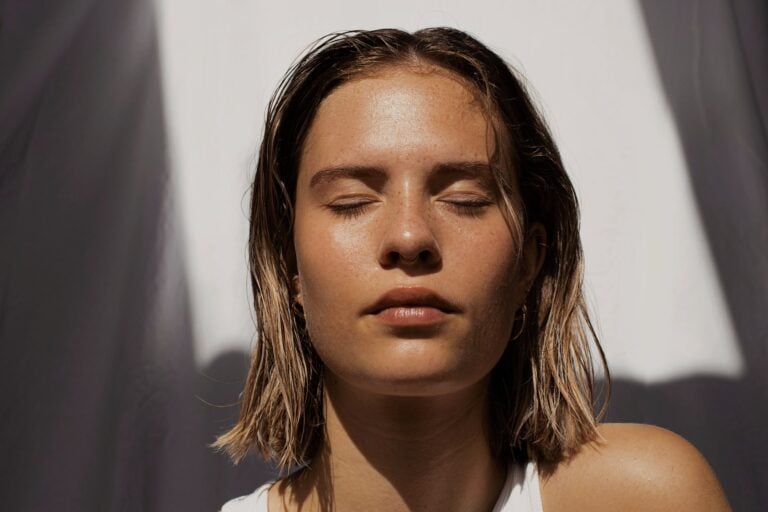 The Best Cheek Products for Nude Makeup Looks
DO: Pick the bronzer that's best for your skin tone. Think about how your skin looks when you tan. And does it get more golden or more red-toned? It's best to choose a bronzer with the same undertone as your skin at it's most tan to avoid looking artificial. That way the bronzer integrates seamlessly into your skin.
DON'T: Apply bronzer all over your face like a fake tan. Bronzer looks best around the perimeter and on the high points of your face as that's where our skin tends to darken first. Using bronzer around the perimeter of your face can create contrast which makes the center of your face look brighter. It'll create the perfect nude makeup look.
DO: Apply blush to the tops of your cheekbones. This technique helps shape the face and add definition to your cheeks.
DON'T: Only apply blush to the apples of the cheeks. This can look artificial and drag the face down instead of sculpting it.
The Best Products for Natural-Looking Lashes and Brows
DO: Use brow gels. Whether they're tinted or clear, a brow gel allows you to lay your natural brow hairs in place to achieve your desired shape. Some brow gels even include castor oil which is an ingredient that boosts hair growth. You can supplement any gaps by using a felt-tip brow pen or a skinny brow pencil to create fine, hair-like strokes.
DON'T: Use powders or pomades. While it is possible to create natural, hair-like strokes with these products, it's extremely difficult. Powders and pomades are more suited to the Instagram brow look as they're extremely pigmented. They wouldn't make your nude makeup look natural.
DO: Use a lengthening mascara. Lengthening mascaras tend to create a softer look as they keep your lashes separate while giving them a lengthening boost. This effect reads more natural.
DON'T: Use a volumizing mascara. Volumizing mascaras clump lashes together and make the individual lashes appear thicker. This effect is less natural looking.
The Best Products for a Nude Lip Look
Finding the perfect nude lip is a challenge. Some say that the perfect shade of nude lipstick for you is the same colour as your nipple, but that's not exactly easy to test for. Tinted lip balms go a long way to give you a hint of colour without the hassle of selecting the right lipstick.
A clear or sheer pink lipgloss can help the lips look fuller without the need to over-line your lips. Additionally, glosses and balms can be reapplied with ease throughout the day as opposed to traditional lipstick which can smudge and make a mess.
The Importance of Ingredients
When shopping for natural makeup, it's important to consider the ingredients you're putting on your skin. You don't want your makeup to break you out or cause irritation thus necessitating even more makeup to cover up. Fortunately, there's a lot of overlap between brands that make no-makeup makeup and brands that make natural, clean skincare products. But even when shopping organic, it's important to be aware of any botanical ingredients you may be allergic to and avoid products that contain those ingredients.
Final Tips and Tricks for a Natural Nude Makeup Look
Always start with a high-quality base –

vitamin C serum

is a good one to nourish the skin and make it glow from within, in case you're going for a glowy finish. For matte finish, go with a pore minimizing primer.
Use cream bronzer, blush, and highlight for a more skin-like finish.
If you want some definition around the eye, use a powder bronzer in the crease and along the outer third of the bottom lash line to add natural-looking depth and definition.
Black mascara can look just as natural as brown mascara, so don't be afraid to try it out!
Blush doesn't have to be pink. In fact, bright pink blush isn't flattering on most people. If you're fair-skinned, consider a more peachy color. In case you're medium, try corals and rose-tones. Finally, if you're dark-skinned, try reddish-purple toned blushes.
Choose natural, plant-based, organic skincare and makeup ingredients and brands, whenever you can. Additionally, pick the brands that are cruelty-free and environmentally friendly.