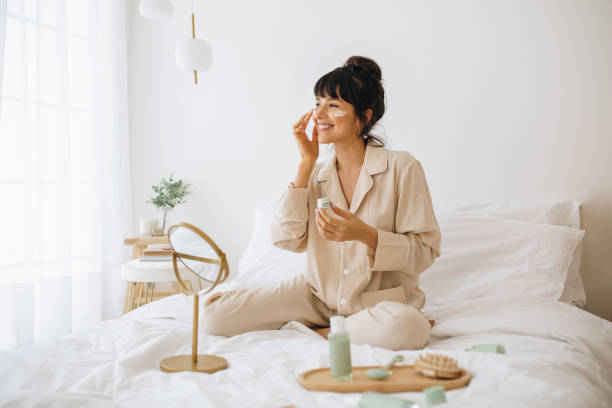 The "No-Makeup Makeup" Revolution
As full-coverage foundations have been tossed to the side, there is a higher demand for face products that subtly conceal without being too obvious. CC cream is one of the first products to fit these criteria, and only gained popularity over the last ten years. 
Throughout the past decade or so, the world of beauty has shifted in favor of a more natural look. "No-makeup makeup" has become a common title for beauty tutorials and a tagline on products. Rather than the heavy-coverage and dark eyeliner looks of the early 2000s, celebrities and makeup artists nowadays tend to pushy a dewy, glowy, lightweight face of makeup. Therefore, Korean glass skin and nude makeup have been trending in the last couple of years.
This first product to be marketed as CC cream was created in 2010 by Rachel K Cosmetics, a makeup and skincare brand from Singapore. Since then, nearly every cosmetics company has followed in their footsteps and launched a CC cream of some sort. "CC" stands for "color control" or "color correcting," and follows in the footsteps of "BB" creams (Blemish Balm). The idea behind a CC cream is that the product will even one's skin tone by reducing redness and discoloration. CC creams provide consistently lower coverage than foundations, BB creams, and even tinted moisturizers. Some people apply CC creams after a good vitamin C face cream. These are used as primers for other makeup products, but they are most often used to achieve subtle coverage.
Ideally, you should start your day with cleaning your face. Some people prefer cleansing oil while others use water-based cleansers. While your skin is still damp, apply a nutritious vitamin c serum (ideally with niacinamide and vitamin c) that'll provide antioxidants and protection for the day. After that, you can put a CC product with SPF to serve as your makeup primer.
There are many different varieties of CC creams, and they commonly contain some sort of SPF ingredients. A product with SPF will protect your skin from sun damage as well as reduce redness. Additionally, CC creams tend to contain vitamin C and/or peptides for their anti-aging properties. As with any skincare product, it is essential to thoroughly examine the ingredients of a cream before you use it on your face. It's important to look for clean skincare products that contain natural ingredients and are free of toxic sulfates or artificial ingredients.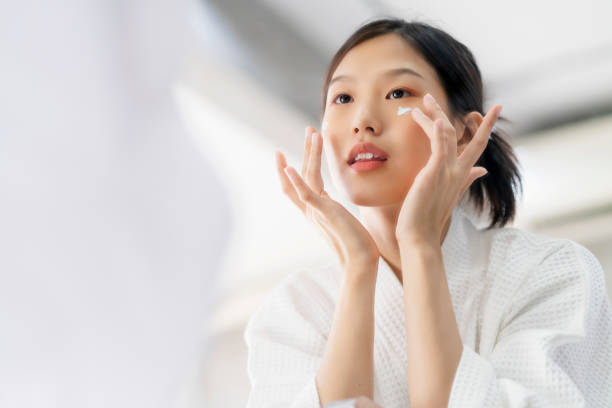 What is color correcting?
Although CC creams are often formulated to serve multiple purposes, the main goal of the products is to color correct. Color correcting is a makeup technique that is at the core of most base products. This strategy relies on the concept of complementary colors. If you understand how complementary colors work, you can practice color correction to even out unwanted blemishes or impurities on the skin. Because red and green are opposite on the color wheel, green color correctors are good for canceling out redness. 
This can help with blemishes, inflammation, or any other skin irritation that you would like to cover up. However, color correction does not completely cover pimples in the way that a foundation or concealer that is the same shade as your skin tone would. By color correcting before you begin your makeup routine, you can ensure that everything will be applied evenly and consistently. 
Do CC creams benefit your skin?
Although CC creams are lightweight, they are still makeup. Therefore, they still need to be properly applied and removed like other makeup products. This is to ensure that they won't cause a breakout. However, if you choose the right product, there can be benefits. Because CC creams almost always contain SPF, they provide protection from damaging UV rays. We should all be wearing biodegradable sunscreen every day, and it's efficient to be able to combine these benefits in one product. Additionally, the product is "self-priming," meaning that you don't need to apply another layer between the product and your skin.
Further, many CC creams contain additional vitamins to benefit the skin. If you see hyaluronic acid on the ingredients list, you know that it will moisturize and hydrate the skin. Collagen provides a plumping effect and soothes wrinkles, vitamin C brightens, and antioxidants protect the skin's surface. Although any makeup product has the possibility of inviting blemishes, CC creams are a relatively safe item.
When buying a color correcting cream, it's always better to think about your health. Here are some of the things to keep in mind:
– 100% Natural and Non-Toxic
– Organic or Certified Organic
– Cruelty-Free and Vegan
– Preservative Free
– GMO-Free
– Silicone-Free
– Talc-Free
– No Phthalates
– Non-Comedogenic
– No Parabens
– Free of Synthetic Dyes
– No Synthetic Fragrances
– Gluten-Free
– Eco or Recycled Packaging
How should I use a CC cream?
The beauty of CC creams is that they are lightweight and buildable, providing lots of flexibility for how to fit them into your routine. CC creams should be applied after your initial skincare routine, as they typically do not provide enough hydration to replace your moisturizer. Ideally, you should start with a nutritious face serum or a few drops of a light face oil as a base. Then use CC product. However, if your product contains SPF, you can skip the sunscreen layer and just rely on that.
Many people choose to just leave it at that for a fresh and glowing look. However, you can continue to build on the product if you so desire. CC cream is buildable, meaning that multiple layers can be blended into one another for advanced coverage. For blemish correction, you can apply your usual concealer on top, and those who want maximum coverage can go in with a final layer of foundation.
Because CC creams have a liquid and lightweight formula, they pair well with creamier makeup products. Liquid highlighters and cream blush and bronzers blend beautifully with CC creams for a natural nude makeup look. The product can be set with a powder like any other base. As CC creams are easily blended and natural-looking, you can fit them into your makeup routine in any way that works best for you.
How do I choose my shade?
When it comes to choosing your shade, the process for CC creams is a bit different than for foundations and concealers. CC creams are intended to correct rather than conceal, which changes the way that we match our shades. Many brands provide a sectioned range of shades rather than specific colors to match your exact skin tone. The best way to select your shade is to go in person and do a patch test on your neck or jawline. This will ensure that your shade is properly matched to your face and body. Additionally, patch tests are always beneficial for avoiding irritation from new products. In general, your shade for a CC cream is much more forgiving than higher coverage foundations. Finally, it's good to know what Fitzpatrick skin type you are when trying to choose the right shade.
What's the difference between a CC cream and all the other coverage options?
As mentioned, there are a plethora of options when it comes to skin tints. Because current beauty trends highlight more natural and nude makeup looks, brands have come out with a variety of tinted coverage options. BB cream, or blemish balms, are similarly sheer products that provide an evening effect. However, BB creams do not have the same color correcting properties as CC creams.
If you're looking for a higher coverage product that still has a hydrated feel, tinted moisturizers are a great choice. People with dry skin might benefit from tinted moisturizers more than from CC creams. A final product time is a skin tint, which can be found in a variety of forms. Skin tints can be purchased as a cream or in a dropper like a serum and tend to provide the least coverage out of all these options. They simply help to even the color of your skin, but they do not offer blemish coverage. Whether you are looking for a skin tint, BB cream, CC, or tinted moisturizer, you should be able to find an option that contains SPF for sun protection and any other essential minerals that you prefer.
Each of these product types are great choices for anyone who's looking for an alternative to a makeup foundation. When deciding between them, the most important factors to consider are coverage and feel. CC creams particularly provide the ideal flexibility, as they are completely buildable without creating too thick of a feeling of the skin. If there's one thing that we can take from recent beauty trends, it's that makeup should be as comfortable (and healthy) as possible.
This content is for informational and educational purposes only. It is not intended to provide medical advice or to take the place of such advice or treatment from a personal physician. All readers of this content are advised to consult their doctors or qualified health professionals regarding specific health questions. The publisher of this content does not take responsibility for possible health consequences of any person or persons reading or following the information in this educational content. All viewers of this content, especially those taking prescription or over-the-counter medications, should consult their physicians before beginning any nutrition, supplement, skincare product, or lifestyle program.